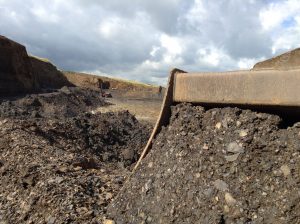 Puddle / Puddling Clays are used for a variety of different applications.
General uses for puddle / puddling clays include lining for flood defence schemes, pond/lake/canal or reservoir lining , capping or lining for landfill site and mixing with higher grades of clay for the manufacture of bricks.
Covering Leeds, Bradford and surrounding areas of  South Yorkshire, West Yorkshire and North Yorkshire and can supply engineering puddle clay for waterways, golf courses or engineering projects. We  supply to many industries including the construction industry and our engineering puddle clay can be used for the irrigation process in lagoons, ponds (including fish ponds and waterfowl flight).
With approximately 1,500,000 tons of available clay within our sites, Soil Hill Quarries has the availability and continuity of supply to support any size of contract.
Puddling Clay is sold loaded at the gate – we are able to supply in 10 ton to 40 ton loads. Prices start at £50 per ton loaded but prices vary due to size of requirement.
Test certificates download Soil Hill Quarries Compation Test 2019              Bottom blue
Samples are available on request